Place Exchange recently released its Programmatic OOH Trends report, which compared OOH spending from H1 2023 to H2 2022 and across "billions of programmatic OOH impressions." 
And while so many of us have screens on the mind — after all, there's one in front of you right now — billboards dominate the landscape.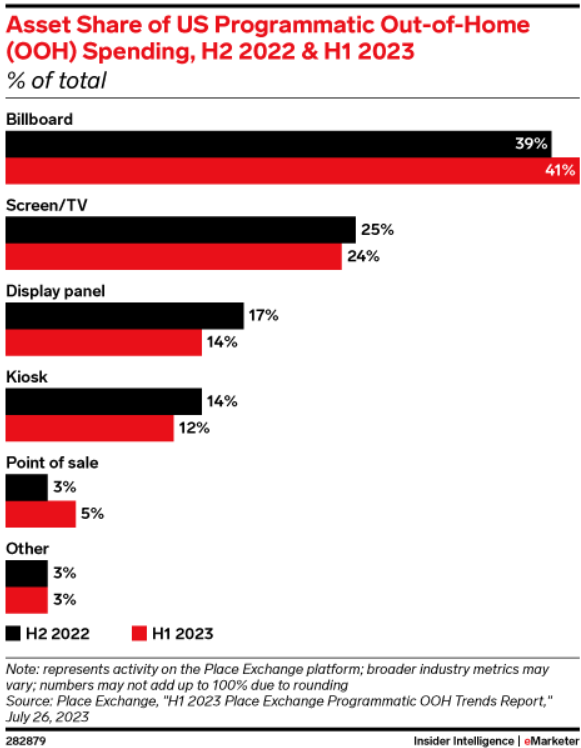 (Source: Insider Intelligence)
"Billboards continued to represent the largest single asset category, [increasing] slightly from H2 2022 to 41% of spend," says Place Exchange. "Overall, the distribution of spend among asset categories remained relatively consistent between the two time periods. From H2 2022 to H1 2023, overall programmatic screen count grew by 37%, driven by new screens in retail locations, entertainment venues, moving media, and office buildings."
The top advertising categories — Food/Drink at 23%, Personal Finance at 14%, and Health/Fitness at 11% — remained the same, though Art/Entertainment had the largest growth rate (up 170% to make up 11% of overall spend).
"Programmatic OOH buyers continue to transact predominantly via Private Marketplace deals, which offer high levels of campaign flexibility, price transparency and media quality," the report says.
SEE FOR YOURSELF
The Magazine Manager is a web-based CRM solution designed to help digital and print publishers manage sales, production, and marketing in a centralized platform.