This year's World Press Trends Outlook was recently released, and amid continued and ever-arising challenges in the publishing industry that What's New In Publishing says "makes for a sobering read," WAN-IFRA's report offers some optimism, particularly as "revenue diversification progresses and publishers double down on new revenue sources and editorial products."
In all, 167 news executives from 62 countries were surveyed for the 2022-23 report on the publishing business and industry predictions.
One of the main takeaways was the loss of some confidence in overall business sentiment, with 55.4% of survey respondents saying they were "pessimistic" about the coming year, a sharp turn from the 80% who were "optimistic" in last year's report. 
That pessimism recedes a bit when looking farther down the road, however, with 31% saying they were "very optimistic" about where their businesses will be in three years. 
Publishers are also "on the whole bullish about their revenues," WNIP says, with projected revenues for the just-completed 2022 to grow by 16.4% from the year before; in last year's report, anticipated revenue growth was only 7.3% YoY.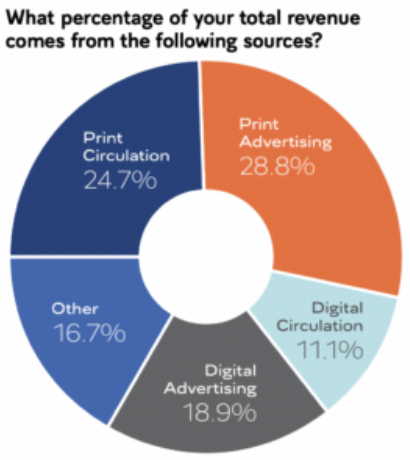 (Source: WAN-IFRA via WNIP)
The more-traditional revenue sources remain the most important, with 47.7% of earnings coming from print and digital advertising and 35.8% coming from print and digital circulation. However, revenue from "other" sources like events, contract publishing, and e-commerce account for 16.7%, up from 13.2%.
"Publishers also said that their revenues coming from new activities increased by 21.5% over the last 12 months," WNIP says, "making it their fastest growing area for revenues."
News executives, like the rest of us, are just as intrigued by the advancements of AI, with 69% saying it, more than any other technology surveyed about, would have the biggest impact on their business in the next 2-3 years.
"Given the current level of attention on new AI tools, it is perhaps not surprising that many publishers see AI as a game changer among new and emerging technologies," WNIP says. Of the other impact-making technology options executives could choose from, 28% said 5G, 16% said the Metaverse, and 14% said "none."
To see the full report, visit wan-ifra.org.
SEE FOR YOURSELF
The Magazine Manager is a web-based CRM solution designed to help digital and print publishers manage sales, production, and marketing in a centralized platform.