Existing where we are at the intersections of publishing, technology, advertising, and marketing, we've consulted and linked to a fair share of Google blog entries and explainer articles.
Hard to remember a time when that text was a defensive one.
Thanks to a relatively bombshell Wall Street Journal article that highlights an extensive Adalytics.io report about advertisers potentially being misled for years by Google and its video-ad placements, Google has been caught on its backfoot. And while Google is quick to categorize them as "extremely inaccurate claims," that these violations may have affected government agencies, Fortune 500 companies, publishers, and small businesses alike will surely capture more attention as numbers continue to be crunched, scrutinized, and questioned.
The case, as Adalytics makes it, starts with Google's TrueView video ad format, which allows advertisers to pay per-view as opposed to per-impression, on Google's YouTube and beyond. (TrueView ads, Financial Times says, are a "core product for YouTube's $30b a year business.")
When those ads run on sites through the Google Video Partner (GVP) network, WSJ says, Google "charges a premium, promising that the ads it places will run on high-quality sites, before the page's main video content, with the audio on, and that brands will only pay for ads that aren't skipped."
According to Adalytics' research of more than a thousand brands who accumulated billions of ad impressions, four out of every five ads that Google placed didn't meet those standards.
"When cross-referencing TrueView ad campaign placement reports from advertisers," Adalytics says, "approximately 80.7% of the subset of their budget that went to Google Video Partner websites, was found to be delivering against sites which were identified as serving video ads in muted, auto-playing, obscured, or out-stream video slots."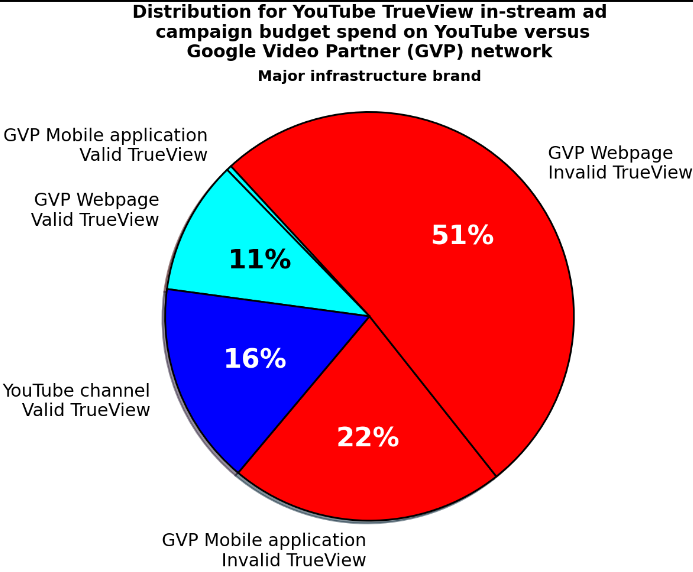 "For a major infrastructure brand," Adalytics says, "… the majority of their budget was spent on tens of thousands of different websites or mobile apps which make up the Google Video Partner (GVP) network. The majority of those GVP mobile apps and websites served the TrueView skippable in-stream video ads in outstream, muted, auto-playing, interstitial, and/or non-visible ad slots – which are inconsistent with the TrueView or skippable in-stream ad format."
(Source: Adalytics)
Additionally, Adalytics used DeepSee.io's "industry leading list" of made-for-advertising (MFA) sites designed with clickbait content and excessive ads, and ultimately calculated that "12.3% of the budget spent on Google Video Partner sites is spent on MFA publishers." 
Taken alongside Facebook's metric issues with partially-viewed ads and the recently raised concerns about the waste spent on MFA websites, and programmatic advertising sure does seem to be taking a drubbing that takes away from so much of its potential.
Marvin Renaud, Google's Director for Global Video Solutions, says the report "wrongly implies that most campaign spend runs on GVP rather than YouTube," adding that ad inventory on the GVP network is "more than 90% viewable." 
Utah Senator Mike Lee says the report "proves the lie in Google's assertion that it has made digital advertising better for all involved." Lee, who's been critical enough of Google and its digital advertising practices to introduce The AMERICA Act, happened to be one of the entities mentioned by Adalytics as an affected brand, as ads for his campaign appeared in TrueView's skippable in-stream environments.
In another Adalytics example, this time with an unnamed Fortune 500 brand, tens of thousands were spent on a TrueView skippable in-stream campaign, with approximately 10% of which was delivered against YouTube channels while 90% went to GVP apps and sites.
"Advertisers and consumers will continue to suffer from Google's rampant conflicts of interest and fraudulent conduct," Lee tells WSJ.
In addition to Lee's campaign, Adalytics' list of brands and entities who may have been misled in some capacity includes the U.S. Department of Health & Human Services, the European Parliament, Johnson & Johnson, JP Morgan Chase Bank, American Express, General Motors, Disney Plus, McDonald's, TikTok, National Geographic, and The Wall Street Journal itself. 
(The Wall Street Journal, in one TrueView example illustrated by Adalytics through a screen-recording, had an ad auto-play muted, in an out-stream video player, 20 times to the same user in 8 minutes.)
And of the responses media buyers had for Google to these potential violations, Adalytics compiled a list that included "fraud," "pissed," "betrayed and lied to," and "cheated out of my money." 
Only time will tell what, if any, consequences are faced or restitution is made, but as Gizmodo recommends, "don't hold your breath."
"This is an unprecedented opportunity for advertisers to claw back billions of dollars in refunds and lawsuits," Claire Atkin, the co-founder of watchdog Check My Ads, told Financial Times. "This research makes a mockery of any effort Google has claimed in the direction towards reasonable business practice in the ad industry."
SEE FOR YOURSELF
The Magazine Manager is a web-based CRM solution designed to help digital and print publishers manage sales, production, and marketing in a centralized platform.