With so much made of Google and Meta's stranglehold on digital advertising spend nowadays, anyone who isn't a media professional or lawmaker could be forgiven for momentarily forgetting about what might be considered the duopoly's original sin in their relationship with the publishing industry.
Content forever being king, it was the appropriation of news content that gave so many search engines and social media channels the foundation necessary to flourish. In 2019, the company formerly known as Facebook announced a three-year, $300 million investment in "supporting local journalists and newsrooms with their newsgathering needs in the immediate future … and helping local news organizations build sustainable business models, through both our product and partnership work."
Fast-forward a few years, and in light of mass Meta layoffs in late 2022 (which included key figures in the Meta Journalism Project Accelerator program), the fate of that local news commitment was all but obvious in what Nieman Lab's Sarah Scire wrote was "another step in Meta's journey to get the heck away from news."
In a Columbia Journalism Review article last week entitled "Where Did Facebook's Funding For Journalism Really Go?," Gabby Miller wrote about all the known Meta Journalism Project initiatives that Columbia University's Tow Center was able to gather data on. 
Ultimately, they found 564 news organizations received a total of $29.4 million through 17 MJP programs.
"While Meta has frequently promoted its investments into local journalism, tracing this funding has been surprisingly difficult," Miller wrote. "There are no disclosure requirements and Meta does not keep a public register of payments that researchers and journalists can scrutinize."
"At a time when policymakers around the world are legislating in ways that both restrict technology platforms and occasionally benefit local news industries," Miller continues, "we intend our research to be useful in assessing the scale of recent programs."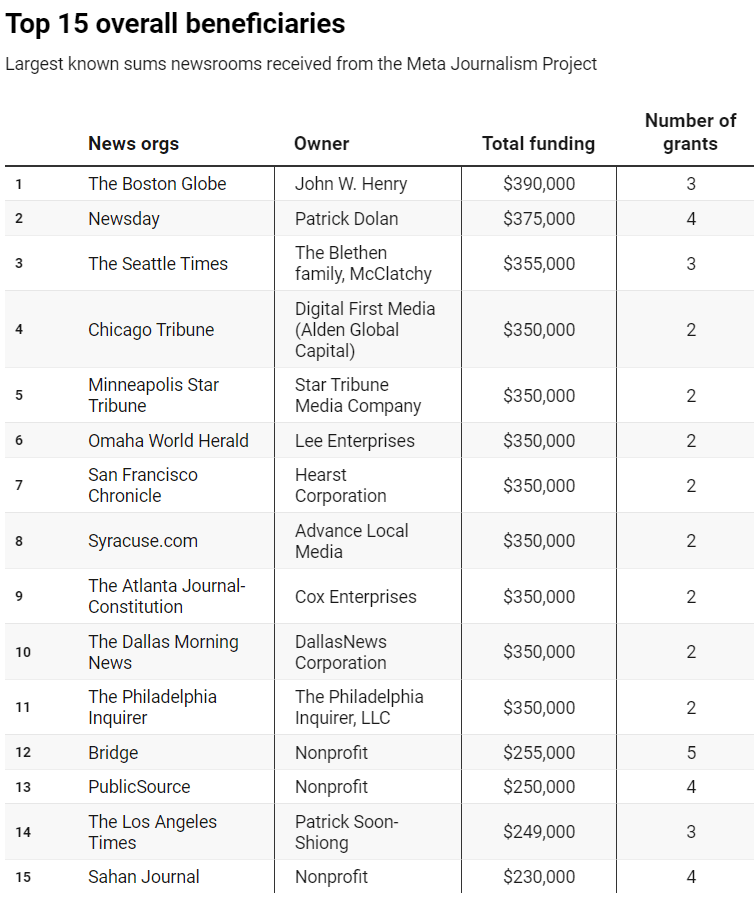 (Source: The Tow Center)
The top beneficiary in terms of largest known sums was The Boston Globe, which received $390,000, followed by Newsday ($375,000) and The Seattle Times ($355,000). Eight beneficiaries received $350,000, including the Chicago Tribune, San Francisco Chronicle, and The Philadelphia Inquirer.
Overall, 239 newsrooms (or 43% of those funded) only received $5,000. And Meta's biggest spending came in response to COVID, a total payout of $16.5 million in grants that Miller called "welcome but reactionary and couldn't have been foreseen when the $300 million announcement was made."
The continued decrease of funding since 2020, compounded with last year's telling layoffs, sure make it seem like the writing's on the wall for Meta's journalism initiatives. The CJR article quotes Frank Mungeam of the Local Media Association as saying "whatever you think about Facebook's macro impact on news and civic discourse, the disbanding of the Facebook Journalism Project team is a loss for local news."
To read more from the Tow Center's report and explore their database — which Miller says is intended to be a "launchpad for journalists and researchers seeking to understand this chapter in the fraught, ongoing relationship between platforms and publishers" — visit cjr.org.
SEE FOR YOURSELF
The Magazine Manager is a web-based CRM solution designed to help digital and print publishers manage sales, production, and marketing in a centralized platform.