As we close in on a full year of ChatGPT, it's safe to say that almost all of us are now aware of generative AI and its capabilities. According to a recent survey, generative AI has an even steeper adoption curve than smartphones did more than 15 years ago.
The only question, really, is how it's being used … and Capgemini recently released the results of its AI research across marketing and other industries.
Marketing, in fact, was one of the noted industries where generative AI "packs the most punch," alongside IT and sales. (48% of organizations saw marketing and communications as having the most potential for AI to "drive innovation and create value, outranked only by IT with 67% and sales and customer service with 54%.)
"By using generative AI to produce personalized marketing, pricing optimization, demand forecasting, improved customer experience, enhanced sales support, and data-driven decision-making, organizations can attract more customers, drive life-long content-driven conversations, and boost conversions," the report says. 
The top three use cases for marketing and communications were creating and optimizing campaigns, real-time customer feedback analysis, and improving segmentation and targeting. Across all industries, chatbots for automating customer service were the generative AI function most relevant to overall business at 83%, followed by data (designing, collecting, or summarizing) at 75% and text (summarizing, automating, or translating) at 71%.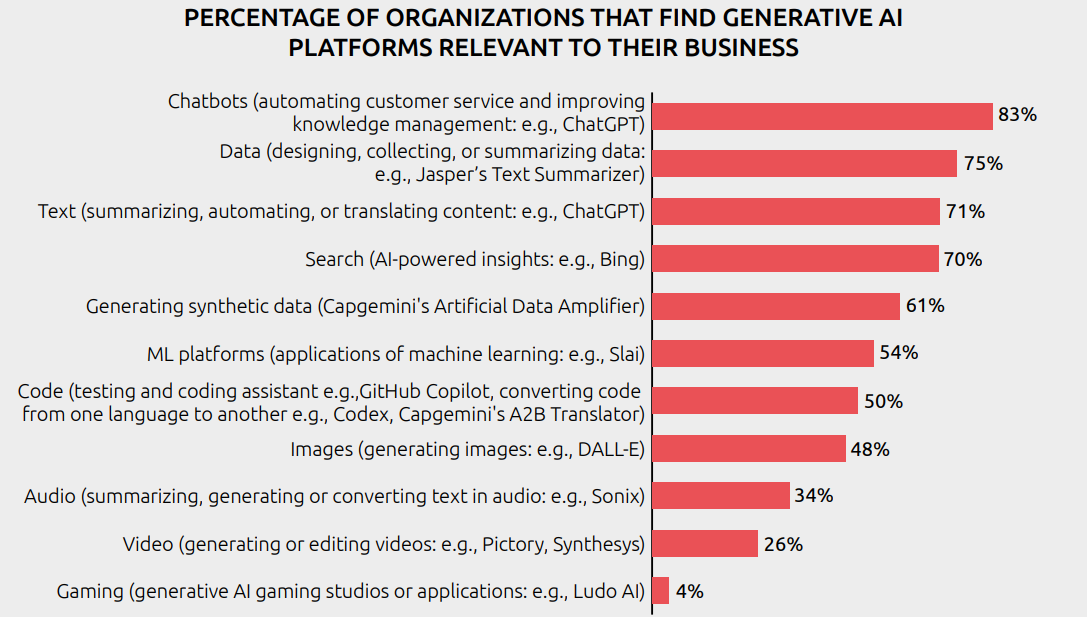 (Source: Capgemini)
"As the technology evolves, organizations' expectations are bound to change," the report concludes. "It is not yet clear how all these elements will unfold."
"What is clear is that generative AI technology is part of the future and organizations should start to prepare for it."
SEE FOR YOURSELF
The Magazine Manager is a web-based CRM solution designed to help digital and print publishers manage sales, production, and marketing in a centralized platform.