Two recently released surveys are looking at AI in marketing, with both seeking to get a better grasp on how fearful marketers might be for their jobs.
The first study, entitled AI in Marketing & Communications from The Conference Board and Ragan Communications, found that 40% of the almost 300 marketing professionals surveyed think AI will have a negative impact on the number of jobs, with only 4% seeing a positive job impact.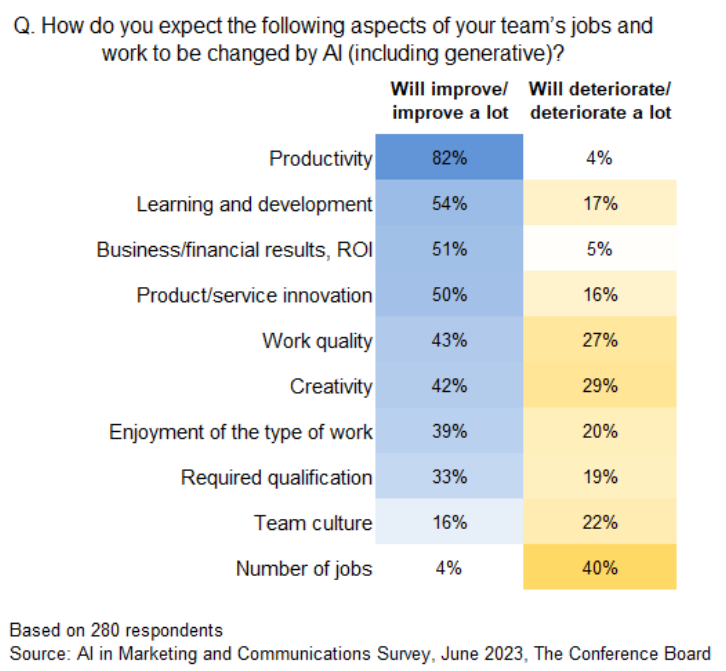 (Source: The Conference Board)
The second, from SurveyMonkey and entitled AI in Marketing: Cutting Through The Hype and Harnessing The Potential Marketers, found the 400 marketers it surveyed slightly less pessimistic about job security, with 27% fearing that AI will challenge their job safety.
"One of the biggest areas of concern for marketers revolves around AI-generated content," SurveyMonkey's study says, "from copy and articles, to images, ads, and videos. For a variety of reasons, marketers are cautious about these AI capabilities and the impact it would have on their jobs."
Regardless, any existential insecurities marketers may have about generative AI doesn't appear to be stopping them from using the technology. The Conference Board asked marketers how often they use AI in their daily work, and 48% said sometimes, 14% said often, and 6% said all the time. 
"For marketers and communicators, AI currently serves mostly as a productivity enhancement tool," The Conference Board's study says. "Uses include summarizing content, doing the legwork/inspire thinking, and producing content faster, freeing up time for strategy and creative work."
Similarly, SurveyMonkey found that 74% of marketers use AI weekly or more frequently, with 36% using it daily.
"73% of marketers feel AI helps them do their job better," SurveyMonkey's study says. "AI might hold the keys to providing more effective ways to approach challenges, and ensure marketers' efforts pay off."
SurveyMonkey's survey asked marketers about their confidence regarding specific promotional items AI could handle. "Emails topped the list," the study says, "but SEO copy, images, blogs and articles ranked high for over four in ten marketers."
"But here lies the contradiction — there's a difference between what AI can do, and what AI should be allowed to do. Even though almost a third (32%) of marketers are already using AI for SEO copy, a large majority indicate support for AI regulations. Three-quarters of marketers say AI should not be allowed to generate content that could create SEO disadvantages."
SEE FOR YOURSELF
The Magazine Manager is a web-based CRM solution designed to help digital and print publishers manage sales, production, and marketing in a centralized platform.