We've come a long way since the very first American publication in 1741.
Nevertheless, magazines have prevailed with an annual global revenue of approximately $67.56 billion in 2020.
Thanks to their adaptation to digital mediums, magazines are still a worthwhile project to embark on.
If you're looking to start a magazine or pivot to digital editions, read on. We're outlining the basic steps of how to start a magazine in 2021.
Choose a Niche
The first step to starting your magazine is, of course, to choose a concept. What exactly do you want to write about in your publication?
Will it handle a general topic, like business or politics?
Do you want to get down to the nitty gritty of gardening or interior design?
Be sure to choose a concept that you will be able to generate ideas around.
Magazines have been around for centuries, so chances are that there's already a plethora of publications on your chosen topic.
Because of this you need to separate yourself from the competition. To differentiate your magazine, think of a fresh way to approach the subject.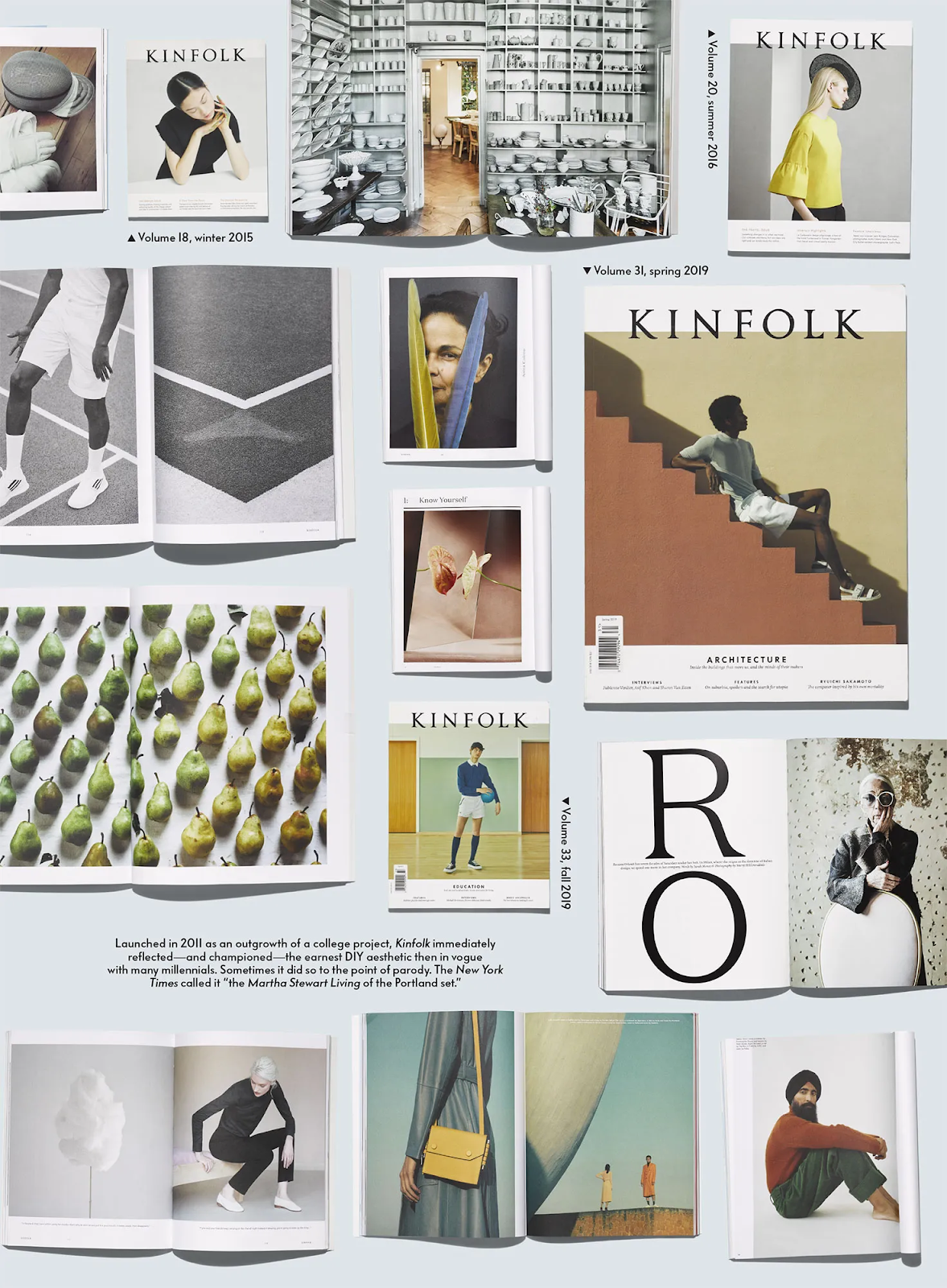 When choosing a topic, you should also consider who your primary audience is.
What type of readers are you targeting?
What's the demographic profile? Talk about gender, age, interests, education level, family dynamics, and so on.
Pro Tip: "It's ... important that your audience has a 'continuing need' for your content, so they'll want to subscribe and read more. Think about your audience's lifestyle and cater to the issues and ideas they care about."
Beyond your concept, other factors to consider are:
The title. Your audience's first impression of your publication comes from its title. Make sure it's concise, catchy, relevant, and distinguishable. Your magazine should stand out from others in your topic.

The tone and message. Though all writers and editors bring something different to the table, the overall tone of the magazine should be consistent and relevant to your topic. For example, an upbeat tone is fine for an entertainment magazine but isn't appropriate for a political publication.

The stylistic elements. Generally, you want the font type, size, and color to be uniform across all of your editions. Like branding in marketing, you have to develop a style for your magazine.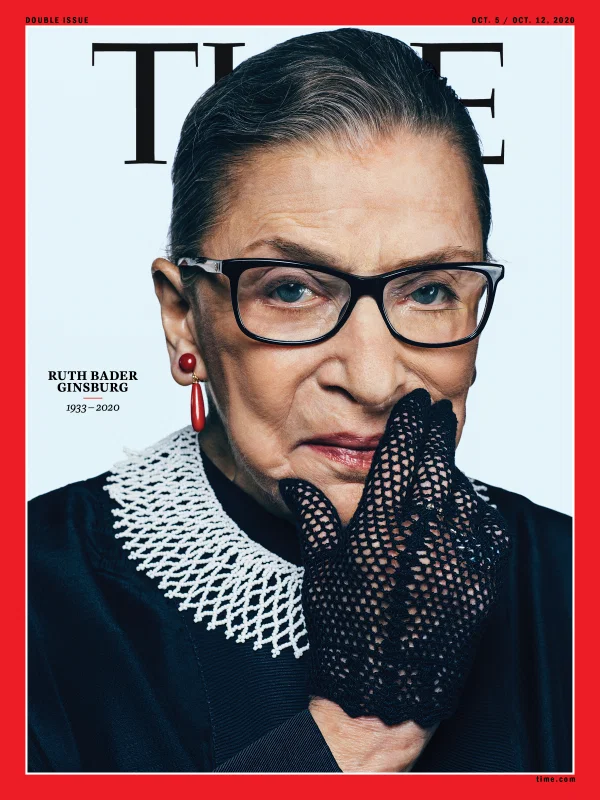 The initial stages of developing your concept will involve lots of research. However, it ensures that you're organized and have a clear vision as you develop your publication.
Create a Business Plan
Think of your up-and-coming magazine as a company. It's not just a publication. It's a brand, a business.

As with any venture, you need to devise a business plan.

Using your concept research, build a business plan that addresses the logistics of starting a magazine. Priority considerations include:

How will you fund your first issue? Some future publishers have money saved up while others look to crowdfund or use investors.

(As you grow, you may be able to rely on advertisements to finance issues. Until then, it'll likely be difficult to get advertisers until your publication is more established.)

How will you distribute your magazine, print or digital? If it's a print publication, how will you print it? If it's digital, where is it available for download?

Are you renting or buying office space, or is it completely work-from-home? Think about the added costs of office supplies, insurance, energy and Internet bills, and more.

Where will your magazine be distributed, regionally or nationally? Magazine start-up costs range from $100,000 to $1 million, depending on geographic circulation.

Speaking of, will your magazine be a free or paid circulation? If it's free, who's the most relevant audience to distribute to? If it's paid, how much will you charge subscribers?

(Most publications make revenue from subscriptions, advertisements, or a combination of the two.)

What advertisements, if any, do you plan to include? If you choose to have ads, ensure they're relevant to your audience.

Pro Tip: If you will be relying on ads for revenue, you will want ads to cover at least 50% of your publication, and closer to 60-65% if you're relying solely on ad revenue.

Do you intend to make a profit from your magazine? Is this venture not-for-profit?

Pro Tip: If you're trying to increase revenue, keep printing and distribution costs below 50% of your total budget.

What are your basic editorial topics? Most first-time publications plan a content calendar at least a year in advance. This allows publishers to focus on generating business instead of worrying about content month to month.
Hire Your Staff
In every feature film surrounding magazines (and newspapers), it's all about the staff. Your staff take ideas and mold them into stories. They give a voice to the page, to the brand.

Because they're so important, don't skimp out on hiring a dream team of editorial and visual all-stars to get your magazine off the ground.

To be fair: If you're just starting out, you likely don't have the budget to hire a full staff.

Still, you need these essential members in your corner:

Editor: To edit copy and paginate
Salesperson: To sell advertisement space in your magazine
Production Manager: To keep track of ads and handle bookkeeping
Writers: To write articles, website content, etc.
Graphic Artist: To design the publication layout and graphics
Photographer: To take high-quality pictures (if your publication calls for them)

The editor and salesperson are indispensable.

An editor runs you between $40,000 and $120,000 per year. When hiring a top-notch editor, focus on finding a candidate with impeccable writing skills, an eye for detail, and a knack for deadlines and organization.

You might want to include writing samples or a sample assignment to ensure their skills are near perfect. Tone can be taught, but basic grammar, spelling, and punctuation are necessary from the get-go.

As for a salesperson, costs fall between $30,000 to $40,000 annually for a base salary plus at least 10% commission.

Hiring a dependable salesperson is a little trickier than an editor. As with an editor, you want someone with basic skills. Great salespeople hone "soft" skills like communication, customer service, and interpersonality.

Ideally you want someone who also has experience selling similar products. However, product knowledge can be taught, so lower that priority.

As a general business rule of thumb, hire a salesperson that you can genuinely sit down and have a conversation with. If they're personable, chances are they'll do great in the field.

If you're financially savvy, you may be able to do without a production manager in the first few months of operation. As revenue and ad sales grow, however, you should definitely look into hiring one.

A production manager's annual salary can range from $30,000-60,000, depending on their experience level.

If you're looking to save money, outsource your writing, design, and photography needs by hiring freelancers.

Costs for freelancers differ based on industry and experience:

Freelance writers usually charge between 10 cents and $1 per word, but to get better quality work, set a per-project pricing structure. You won't have to worry about poor content in lieu of "exceeding a word count."
Graphic designers vary from $25 to $300 per hour. This is worth a little extra, because a great eye for color and layout is hard to come by. They can even help first-time publishers develop a new brand.
Photographers range from $25 to $250 per image. Equally as important as copy, photography is a necessary expense for magazines.

Luckily, it's the 21st Century, and freelancers are everywhere. Fit your needs and budget with this quick list of resources available to hire your editorial team:

Upwork (www.upwork.com): One of the most popular freelancing sites, Upwork provides opportunities in over 70 different job categories. Millions of freelancers offer over 5,000 skills for 4 million businesses, making this site a great option for publications looking to hire for multiple positions from one platform.

Behance (www.behance.net): Behance is a platform by Adobe specifically intended for designers to showcase their work. It allows publications to explore candidates around the world. The best part is that the platform is entirely free, which is ideal for those looking to cut costs.

PeoplePerHour (www.peopleperhour.com): Smaller freelancing platform PeoplePerHour requires users to send a proposal to companies. This is beneficial for first-time publishers who don't have the time to sift through resumes of prospective employees.

YunoJuno: YunoJuno is a great platform, especially if you're searching exclusively for designers. They seek to attract top-tier graphic artists, so if magazine design is one of your priorities, look into this amazing freelance space.

Freelancer: Freelancer is the largest freelancing website out there. It boasts nearly 20 million freelancers and employers. Their matching process consists of a bidding system and allows employers to view past projects and portfolios before hiring someone.

Other websites to hire specialty team members include Fiverr, WriterAccess, and Guru (which also includes translation services if you're producing a multilingual magazine).

Pro Tip: Though not directly part of your editorial team, you also need to find a reliable printer during the hiring stage.

If you're distributing your publications, look for a printer who also distributes. This will save you the time and money of hiring two separate companies.

When your magazine is more established, you also should look into hiring a digital marketer. They'll promote your publication and manage your social media channels.
‍
Make Use of All Platforms
Last but definitely not least, the important consideration for starting a magazine in 2021 is making use of all possible platforms. This means taking advantage of all channels to post and promote your magazine and engage with your readers.

One way to promote is to send out an email newsletter to your subscribers. Give them industry updates, the latest editions, sneak peaks of articles, and more. By providing digital content for them to read, you keep them engaged with your magazine.

Posting digital content has the potential to become an additional stream of revenue — if you require online subscribers to pay a fee. However, this gates your content and prevents readers from sharing it, which hurts engagement and readership.

Initially, it's recommended that you provide online content at no charge and leverage advertisements to generate revenue. Some digital magazines ask for subscriptions in exchange for articles. See this example from The Guardian: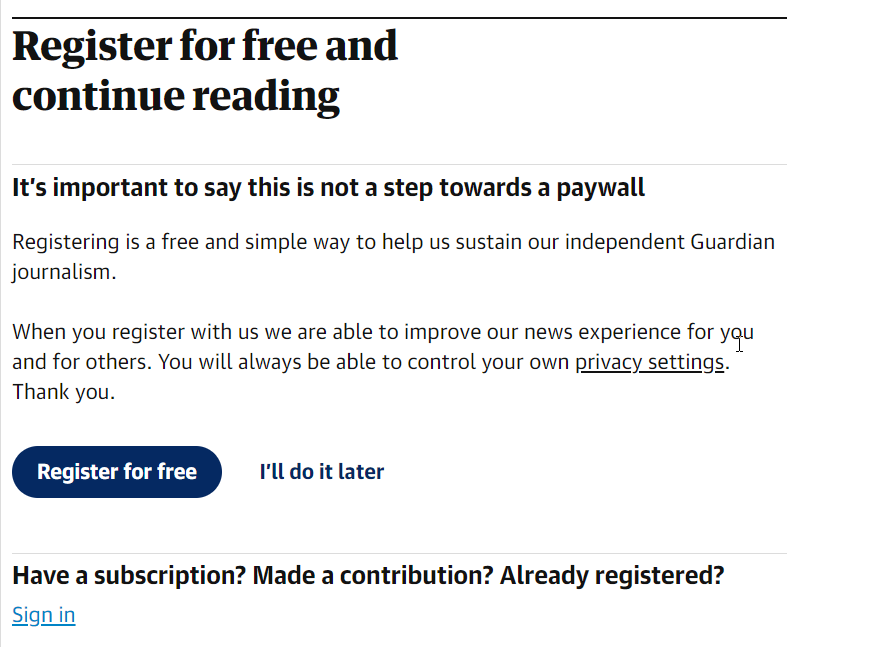 If you see growth from your magazine, your content is likely valuable enough that people would be willing to pay for it. Consider introducing a fee or capping your content off at a certain number of articles. This is called a journalism paywall, as evidenced by Vanity Fair: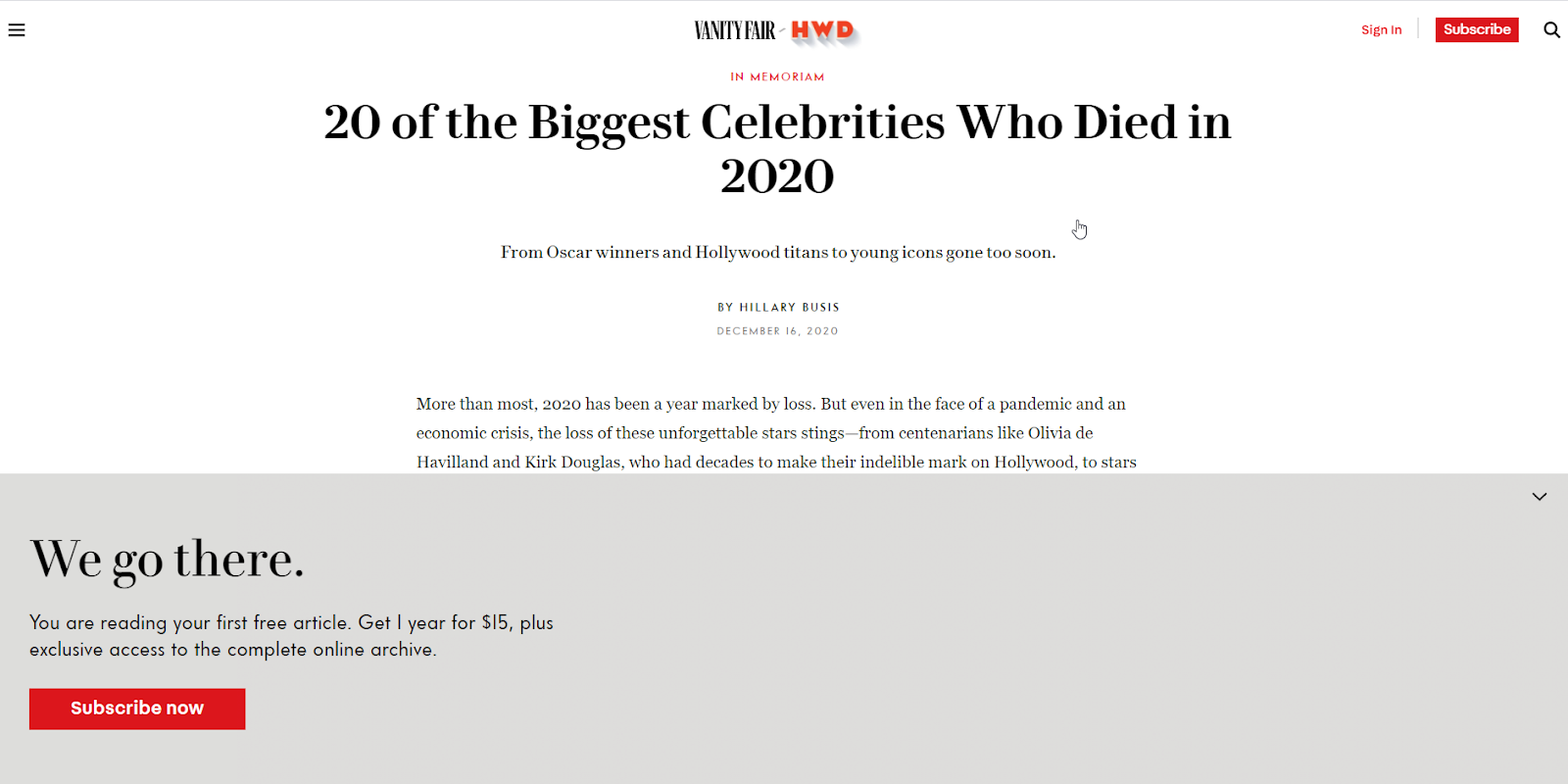 Use social media to further enrich your brand. You can do this by providing food for thought for your readers, asking questions to get them engaged, or creating videos to support your written content.

Podcasts have become increasingly popular over the past few years. Creating a podcast for your magazine where you explore related, relevant topics could engage your audience and even help you reach new readers.

Including ads in your podcasts is another potential source of revenue, and you can also reuse podcast clips as social media content.

The most traditional method of promoting your publication is to distribute it strategically. Even in today's digital world, this remains essential.

In addition to your subscribed readers, be sure to send a sample of your publication to potential and existing advertisers. If your publication is free, send your magazine to relevant readers in the industry.

For example, if you run a business magazine, it might be a good idea to send it to prominent professional figures, local businesses, networking events, and more.

Businesses with waiting rooms, like doctors offices, and colleges and universities are also great places to distribute your publication.
You can build your circulation and subscriber lists through more traditional methods, such as cold calling, street team promotion, or direct mail.
All of these tactics will bring awareness — and thus, subscribers — to your new magazine.
Conclusion
By organizing and following the right steps, you can be on your way to leading your very own publication:
Choose a solid concept
Determine your target audience
Create a business plan
Plan out your editions
Hire your staff
Choose a printer
Market your magazine