Digital advertising, when processed to the best of technology's abilities, has the potential to offer and even treat consumers to ads directly aligned with their interests and needs.
New poll results from CivicScience show that 41% of U.S. adults feel that most of the digital ads they see are at least "somewhat" relevant to them, up 11 percentage points from two years ago and six points from last year.
One of CivicScience's biggest contrasts is between adults 35 and over (less than 3% of whom find digital ads "very relevant") and adults under 35 (who are "five to six times more likely" to see "very relevant" ads).
"Young adults are clearly more tuned in with the ads they see," writes Danielle Commisso of CivicScience, "whereas older consumers are largely not."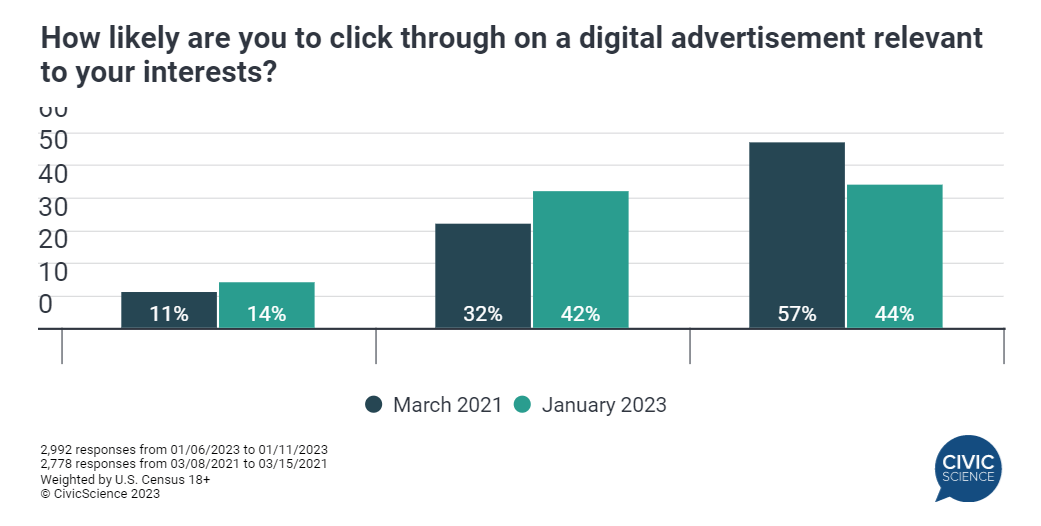 In 2023, 14% were very likely, 42% were somewhat likely, and 44% were not at all likely to click through. That combined 56% of those likely to click on a digital ad is up from 43% just two years ago. (Source: CivicScience)
CivicScience looked at the increased likelihood of click-throughs over the last two years, the growing variety of digital video streamers, as well as the larger number of social media users who claim to see more relevant digital ads than their non-user counterparts.
"The increase in engagement with relevant advertising shows the need to understand consumers' changing behavior and preferences," Commisso writes, "which can prove challenging for marketers without the right tools."
SEE FOR YOURSELF
The Magazine Manager is a web-based CRM solution designed to help digital and print publishers manage sales, production, and marketing in a centralized platform.