The Big Forecasters have spoken, and after some December revisions to their ad economy outlooks, that ever-constant ebb of optimism and flow of recession concerns has painted a new forecast that, well, is not too far from what was predicted at the start of 2022.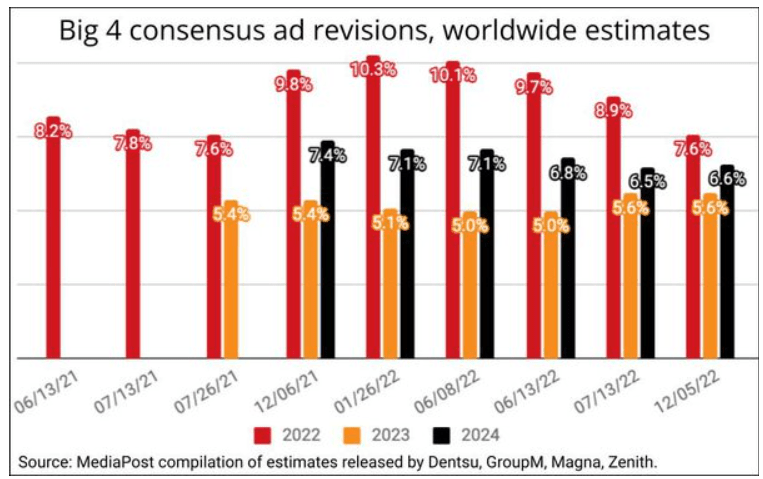 Source: MediaPost
"They are describing their downgrades as more of a 'normalization' of ad spending patterns that have adjusted from the hyper expansion of 2021," says MediaPost's Joe Mandese, "which compared with 2020's mini ad recession, and characterize the near-term outlook as resilient."
Compiling estimates by GroupM, Magna, Zenith, and Dentsu, MediaPost's 2022 expectations show a high of 10.3% growth back in January revised over time to a low of 7.6% growth earlier this month. "Interestingly," Mandese says of the revisions, "the longer term view has remained relatively constant, with both 2023's and 2024's global ad outlook updates hovering within a percentage point gap throughout."
Kate Scott-Dawkins, the global director of business intelligence at GroupM, is maintaining what she calls "conservative optimism" in her outlook for 2023. "That's what we're hearing from advertisers on their earnings calls," she says, "so that's where our heads are at until we see something that forces us to change our minds."
In its U.S. projections, MediaPost's consensus of the Big 4 has the country's ad economy expanding by 9.9% this year, almost 2 percentage points lower than its September projections. MediaPost notes the Magna forecast for U.S. ad-market growth to "reaccelerate" through 2023.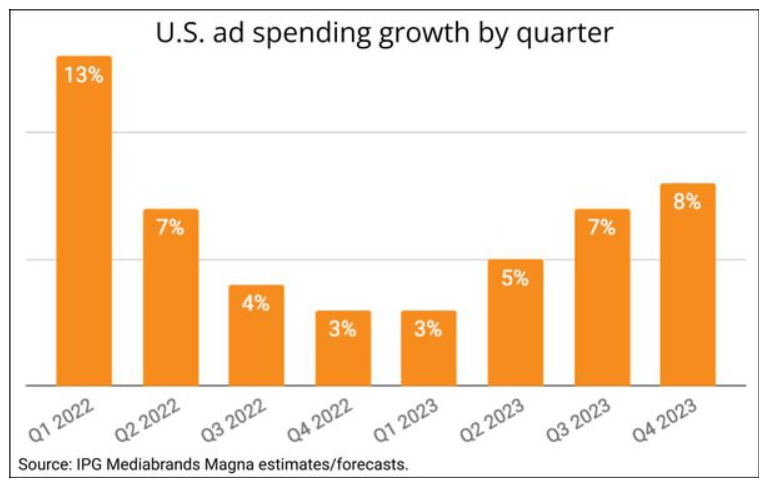 Source: MediaPost
In its outlook for 2023 digital advertising, Insider Intelligence predicts programmatic channels to succeed as "advertisers prioritize flexibility."
"Expect programmatic ad spending to experience strong growth across display, digital out-of-home, and podcasting next year," Insider Intelligence says, even as its overall forecast for next year is $5 billion less than it forecasted in March.
SEE FOR YOURSELF
The Magazine Manager is a web-based CRM solution designed to help digital and print publishers manage sales, production, and marketing in a centralized platform.