Email marketing has long been touted as the most effective channel for marketers. But a new survey puts that effectiveness in the context of customer retention, where email ranks second behind social media as the most effective channel for customer retention … while at the same time topping the ranks as least effective channel for customer retention.
This is all according to Spectrm, who surveyed more than 300 B2C marketers who are "directly responsible for retaining existing customers" for its State of B2C Customer Retention report. 33% said social media was their most effective channel, followed by email (25%); messaging apps, including Facebook Messenger, WhatsApp, and Instagram (10%); app push notifications (10%); and SMS (9%). 
But when it came to ranking the least effective, 17% said email, followed by paid search (16%), SMS (16%), offline (11%), and affiliate (9%).
"Email has long been a top performer for retention marketers," the report says. "But Apple's Mail Privacy updates and inbox filtering for promotional emails among leading providers like Gmail means that email performance is steadily declining. It's not just a measurement issue. Email inboxes are crowded, and younger generations are also less likely to respond to email than social and direct messages."
Most respondents (86%) said they have the tools needed "to be as successful as possible at customer retention," with 74% estimating their budget on customer retention technologies to be between $201,000 and $500,000.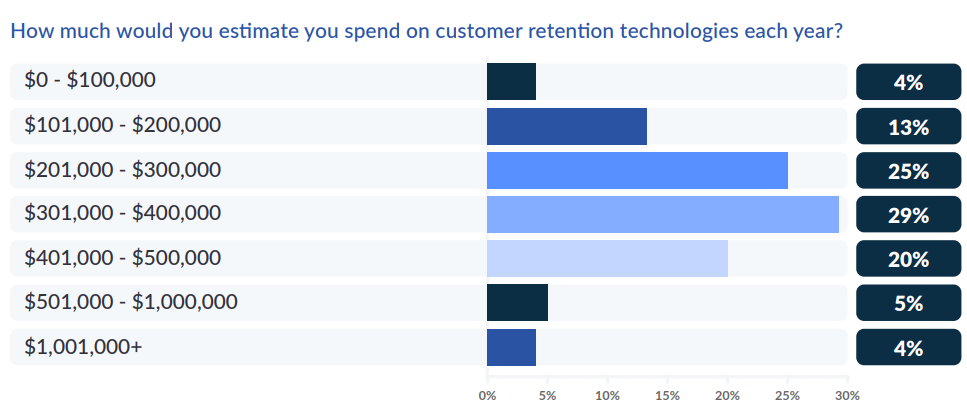 (Source: Spectrm)
Almost three-quarters (74%) of respondents said their budget for customer retention technology was increasing over the next year, with the priorities being to better understand customers (29%), to identify new engaging channels (25%), to communicate more frequently (12%), and to deliver more personalized communication at scale (12%).
"To meet and exceed customer expectations, retention marketers believe that having a better understanding of their customers will lead to better engagement and retention efforts," the report says. "Better understanding customers relies on building a unified view of your customer and capturing firsthand zero-party data on their preferences in order to deliver personalization. They want to better understand their customers. Additionally, marketers plan to seek out new channels through which to engage with customers as well. As older channels which were once profitable decline — like email and certain social media platforms — marketers need to find ways to meet customers where they are in new and emerging channels."
SEE FOR YOURSELF
The Magazine Manager is a web-based CRM solution designed to help digital and print publishers manage sales, production, and marketing in a centralized platform.