Meta appeared to be in the right place at the right time when it launched Threads, but the shine wore off for many of the record-breaking number of users who initially signed up. In fact, Insider Intelligence asked Gen Zers why they downloaded Threads, and 40.1% said it was because it looked fun. ("They don't necessarily want to replace X/Twitter," Insider Intelligence says, "with just 19.5% saying they were looking for an alternative.")
Even so, for digital advertising, Meta still sits (with Google) firmly at the top.
However, according to recently crunched numbers in a separate Insider Intelligence report, Meta's share of ad revenue is "surprisingly out of step with how much time people actually spend on its platforms, particularly when compared with competitors like YouTube and TikTok."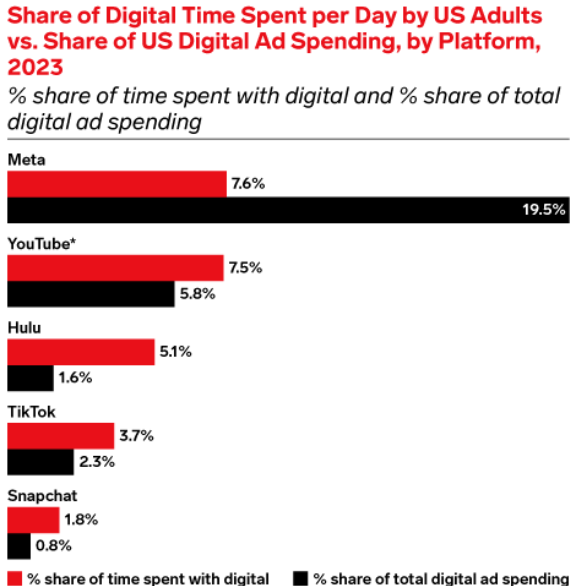 (Source: Insider Intelligence)
Insider Intelligence found that adults spend around 34 minutes on Meta (Facebook and Instagram) each day, amounting to 7.6% of their overall digital media time. YouTube also saw nearly 34 minutes and 7.5% of digital media time. 
However, the ad spending on each was wildly different, with Meta not only seeing 75% of all social ad dollars, but 19.5% of total digital ad spending (compared to YouTube's 5.8%).
"Plenty of major ad publishers are more concerned with clicks than with time spent (e.g., Google search, Amazon)," Insider Intelligence points out, "but social networks and digital video platforms need to keep users tuned in for as long as possible each day in order to thrive. Only Meta seems to have figured out how to transmute user engagement into outsize monetization."
Insider Intelligence says TikTok is primed to improve its positioning here, "growing its ad business fast enough to eventually overindex against time spent the way Meta does," but says that's still years away. 
"Meta's ability to draw ad revenues so out of proportion with its user engagement is a testament to the company's history of technical and operational prowess," Insider Intelligence says. "The magnitude of its advantage … might raise eyebrows — and suggests some advertisers may be in a rut of path-dependency left over from the days when Meta was more central for consumers than it is now."
SEE FOR YOURSELF
The Magazine Manager is a web-based CRM solution designed to help digital and print publishers manage sales, production, and marketing in a centralized platform.