Emodo recently released the latest in its Voice of the Publisher series, entitled "Publishers' Priorities and Strategies in a Changing AdTech Landscape." And in asking publishers to rank the Top 3 trends they felt were vital to their company, Emodo found "a clear trend and one somewhat surprising result."
The biggest priority for more than half (57%) of the respondents was the impact of the economy, while the third-largest priority was privacy and cookie deprecation (for 40%). 
"Less expected at number two (52%)," the research found, "was the rise of publisher focus on Attention metrics — a theme that has gripped advertisers and marketers of late."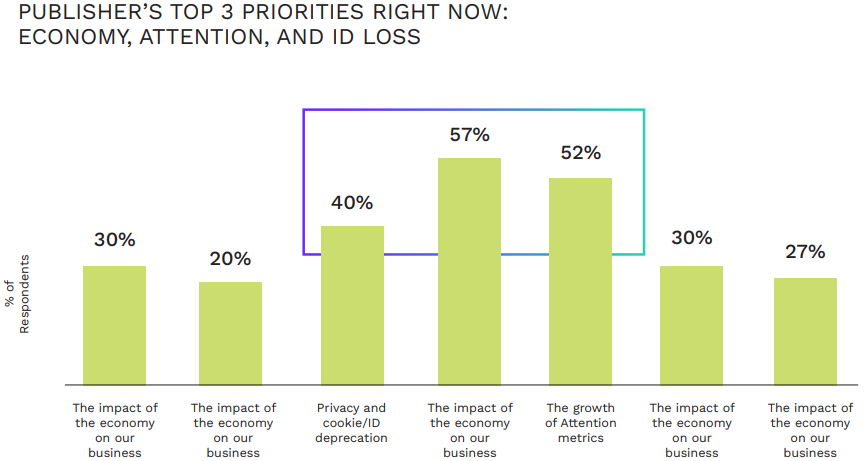 (Source: Emodo)
Attention metrics are gaining as a KPI, Emodo says, because it's a "stronger predictor of ad and campaign performance than viewability." Emodo recommends publishers not only explore new creative formats, but also seek out similar-minded partners. "This is not just important to remain competitive," the report says, "but also to drive premiums and growth, and tap into differentiated media budgets."
In looking at the "universal priority" that is the state of the economy, Emodo's research found a pattern in that publishers who considered the economy at Top 3 priority were twice as likely to consider their programmatic business to be demand constrained. 
"To attract better quality advertisers and help incrementally increase revenue," the research says, "growth-focused publishers will need to find ways to differentiate themselves and compete on value rather than inventory cost. To achieve their growth goals, publishers should seek monetization partners who can offer high-quality, differentiated demand … [and] the chance to access incremental advertiser dollars."
SEE FOR YOURSELF
The Magazine Manager is a web-based CRM solution designed to help digital and print publishers manage sales, production, and marketing in a centralized platform.