Eyes will always be scoping the social media platform landscape for The Next Big Thing, but necks have been on even more of a swivel with last year's announcement that Elon Musk was buying Twitter (to say nothing of the reactions to his head-spinning actions since taking over).
For a brief moment, it felt like Mastodon was in the right place at the right time, ready to take in that early flock of Twitterers — and journalists in particular — looking for an instant alternative. "The surge in new Mastodon users continued throughout November, peaking at over 130,000 new users a day," says The Guardian. "The upticks often coincided with controversial decisions made by Elon Musk."
Many of those who signed up for Mastodon, however, were confused by its system of hosted servers … and went right back to Twitter to complain about them. (And then, of course, Musk went on to block links to Mastodon and other rivals on the Twitter platform.)So where might journalists and news junkies start turning for a viable Twitter alternative? Dan Kennedy, a professor of journalism at Northeastern University, said we "may be heading into a brave new world here" where people pay attention to several social media platforms rather than checking in on just one. He told WGBH he's still on Twitter, he uses Mastodon, and has begun using Post, a new platform founded by former Waze CEO Noam Bardin late last year.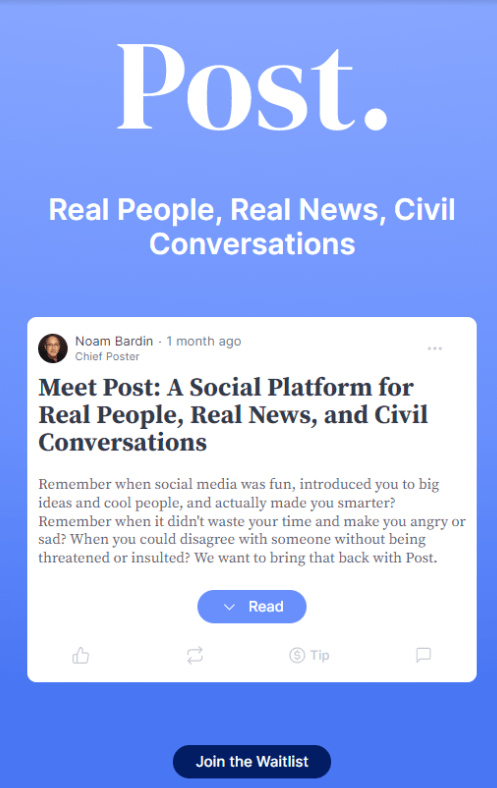 Post's welcome message and waitlist button (Source: Post.news)
USA Today, having just celebrated its 40th year in print a few months ago, opened shop on its Post page last week and is being hyped as the platform's "first major publishing partner." Reuters is also on Post, with 37,000-plus followers catching that institution's breaking news in an interface looking awfully similar to Twitter's … with interesting nuances.
Gone are the character limits that made Twitter so initially unique. Post users can follow accounts and topics, like and repost others' posts, and tip creators much like they could on Twitter, but on posts by accounts like USA Today and Reuters, Post users will also find a button prompting them to read an article for a certain number of points.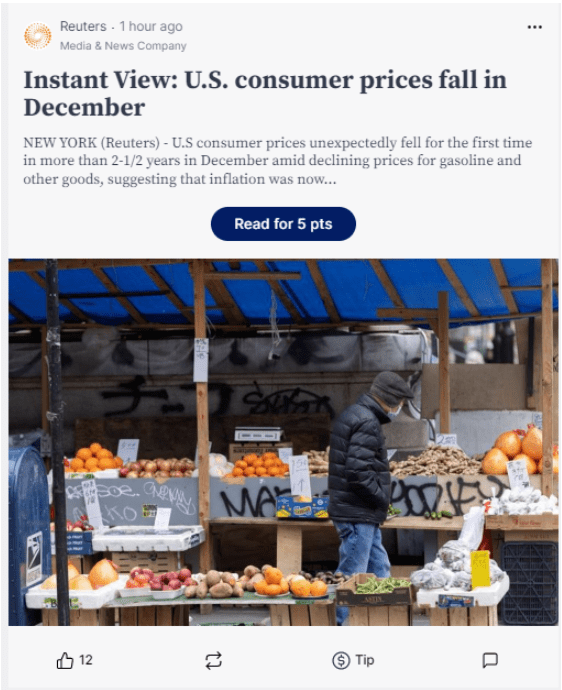 A Reuters post, with points button (Source: post.news/@reuters)
"Bardin is … trying to revive an old idea for supporting journalism: micropayments," says Aaron Pressman of The Boston Globe in December. "Post users buy points, and news organizations charge a small amount to read individual stories that otherwise would be behind a paywall. Points are cheaper the more a user buys; 500 cost $7, for example."
As Bardin told one podcast, news' larger move to subscription "basically converts maybe 2% of the users and so blocks 98% of the users from getting real editorialized content." He believes consumers want multiple news sources in a singular feed and "are willing to pay something for it." 
How those micropayments would be distributed has yet to be announced. For now, it appears building a user base is the priority. Not too long after announcing their launch in beta, the service had 180,000 people on its waitlist to join. (A December update by Bardin — on Twitter, of course — appeared to show they've gotten through much of that queue.)
Boston Globe's Pressman said the Post experience is "a lot like being on Twitter," though noted the array of content is limited. "That could change if Post can build up its infrastructure to support more users," says Pressman, "and if its micropayments feature attracts lots of users and publishers."
"As Twitter's early years demonstrated, scaling to support millions of users is not easy."
SEE FOR YOURSELF
The Magazine Manager is a web-based CRM solution designed to help digital and print publishers manage sales, production, and marketing in a centralized platform.