Yesterday, I wrote about AI use in PR. Today, the AI focus is on email marketing.
In The 2023 State of Email Design Report, Litmus follows up on its earlier report on email workflows, asks the fundamental questions about design philosophy, and discovers how email marketers are using artificial intelligence.
Asking the philosophical basis of email design — "Do you want to optimize for desktop users or mobile users?" — Litmus found that 63% of those surveyed use a responsive, adaptive, or hybrid design approach, with 35% optimizing for mobile devices.
"The hybrid design philosophy is the clear winner here, as it allows your teams to reach the widest possible audience with the best possible content," the report says. "It's not surprising that it came in first."
Personalization also proved important in email philosophy, with the study finding that 64% of emails sent leveraged personalization using dynamic content. Furthermore, more than half of email marketing teams aim to further improve their personalization. In regards to the elements that are most effective at improving performance, 38% said personalization using dynamic content, 30% said personalization in the subject line, and 30% interactivity powered by HTML and CSS.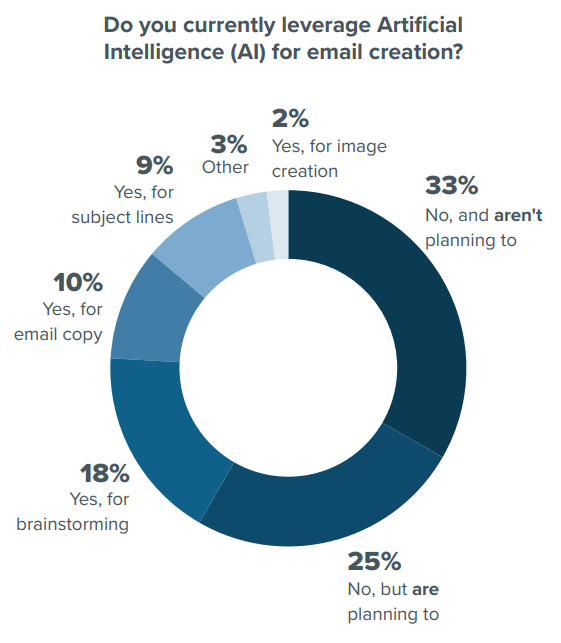 (Source: Litmus)
When it comes to AI, the survey found that a third of respondents are neither using nor planning on using it, and a quarter are not yet using AI but are planning to. In terms of how AI is used, 18% use it for brainstorming, 10% for writing email copy, 9% for writing subject lines, and 2% for image creation.
"As marketers, we're always being asked to do more with less," says Jaina Mistry, Litmus' Director of Content and Email Marketing. "Other types of AI have been successfully integrated into marketing workflows in years past — generative AI just has yet to make that leap successfully."
SEE FOR YOURSELF
The Magazine Manager is a web-based CRM solution designed to help digital and print publishers manage sales, production, and marketing in a centralized platform.