The Magazine Manager blog has written extensively about AI, including about how most SMBs are willing to pay for access to it and other automation tools. 
New research is now showing that an overwhelming majority (93%) of local marketers have experimented with generative AI tools, with most having tried ChatGPT (92%), Bard (41%), BingGPT (28%), and Jasper (28%).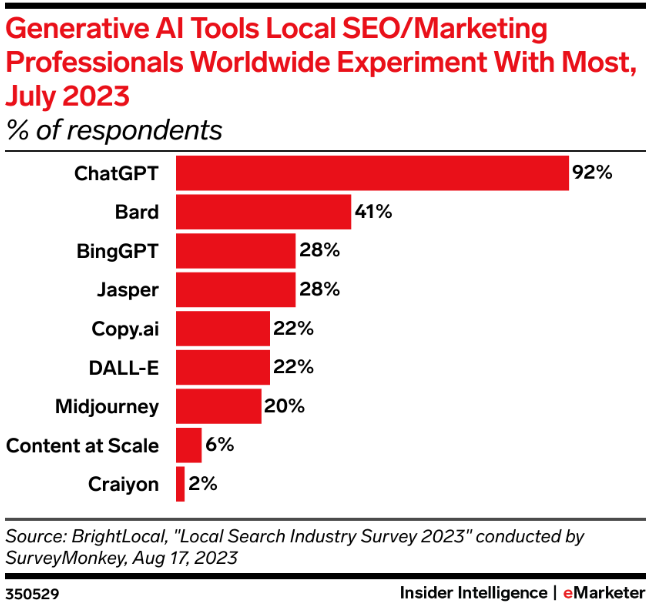 (Source: Insider Intelligence)
"While our recent generative AI case study highlighted that 73% of US adults have not used generative AI tools, it's a very different story within the local SEO niche," writes BrightLocal's Sammy Paget about the company's Local Search Industry Survey 2023. "It seems, for the most part, local marketers are impressed by what they've seen so far."
The survey found 83% of marketers looking to further incorporate generative AI into their roles, and three-quarters feeling that it will bring new business opportunities. According to a separate survey of CMOs, most have used AI for blogs (64.7%), website content (62.2%), social media (54.6%), and email (54.6%).
"While we're not saying you absolutely should be jumping on the bandwagon," writes Paget, "it's good to keep in mind what your peers and competitors are doing with generative AI. With 75% of marketers agreeing that generative AI will bring new opportunities, it might be worth carving out some time to discover what these might be for yourself."
SEE FOR YOURSELF
The Magazine Manager is a web-based CRM solution designed to help digital and print publishers manage sales, production, and marketing in a centralized platform.